2021 Volkswagen Tiguan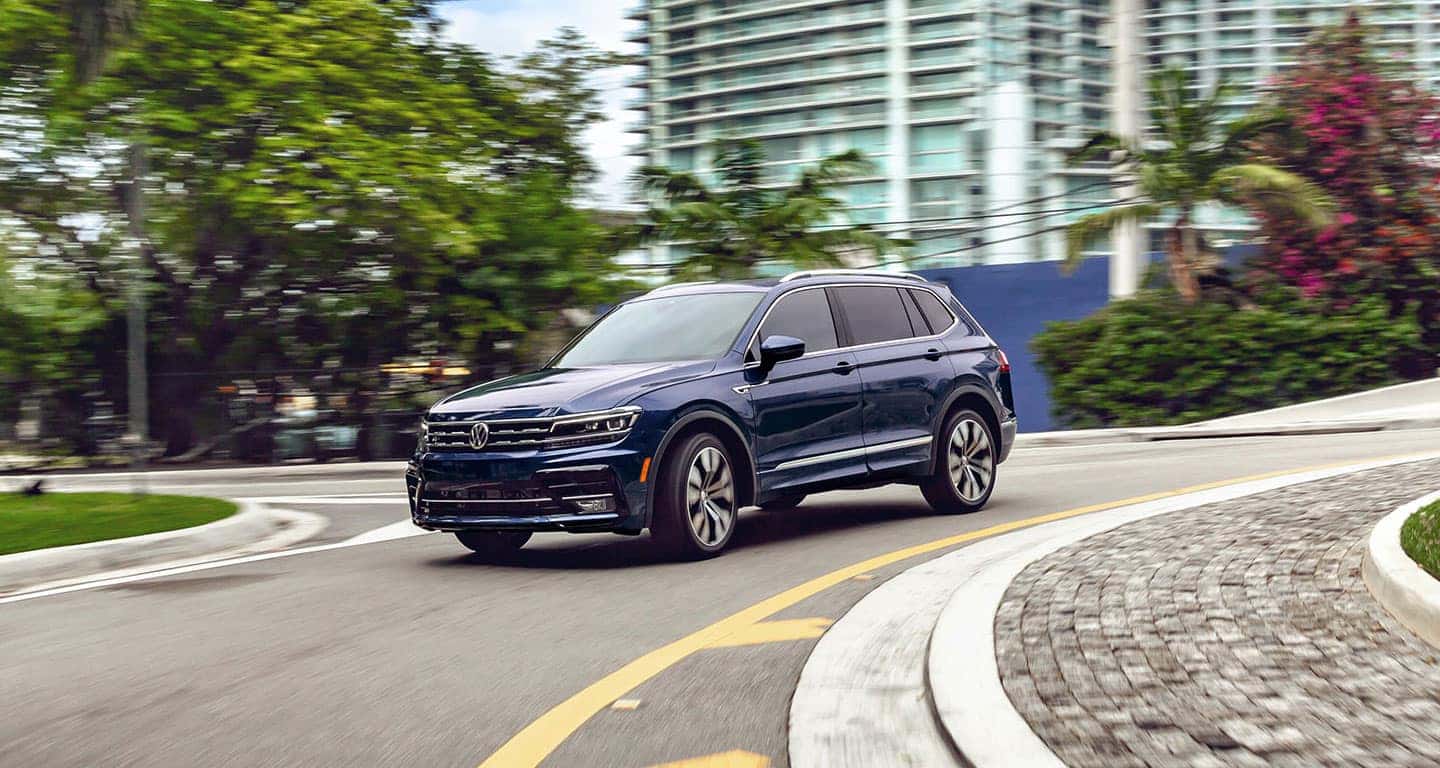 The 2021 VW Tiguan is a compact-crossover SUV perfect for families and road trips, allowing you to transport plenty of passengers and cargo. With almost eight inches of ground clearance and featuring 4Motion all-wheel drive, you can be confident in top performance in foul weather and difficult terrain. Featuring high-tech safety elements, the VW Tiguan also marries performance with comfort and style, making any outing a pleasant experience. Volkswagen of Marion proudly offers the 2021 VW Tiguan. View our new vehicle specials and Volkswagen Tiguan offers to get started.
Trims and Features
The VW Tiguan comes in five trim levels: S, SE, SE R-Line Black, SEL, and the SEL Premium R-Line. Each trim offers customization inside and out.
---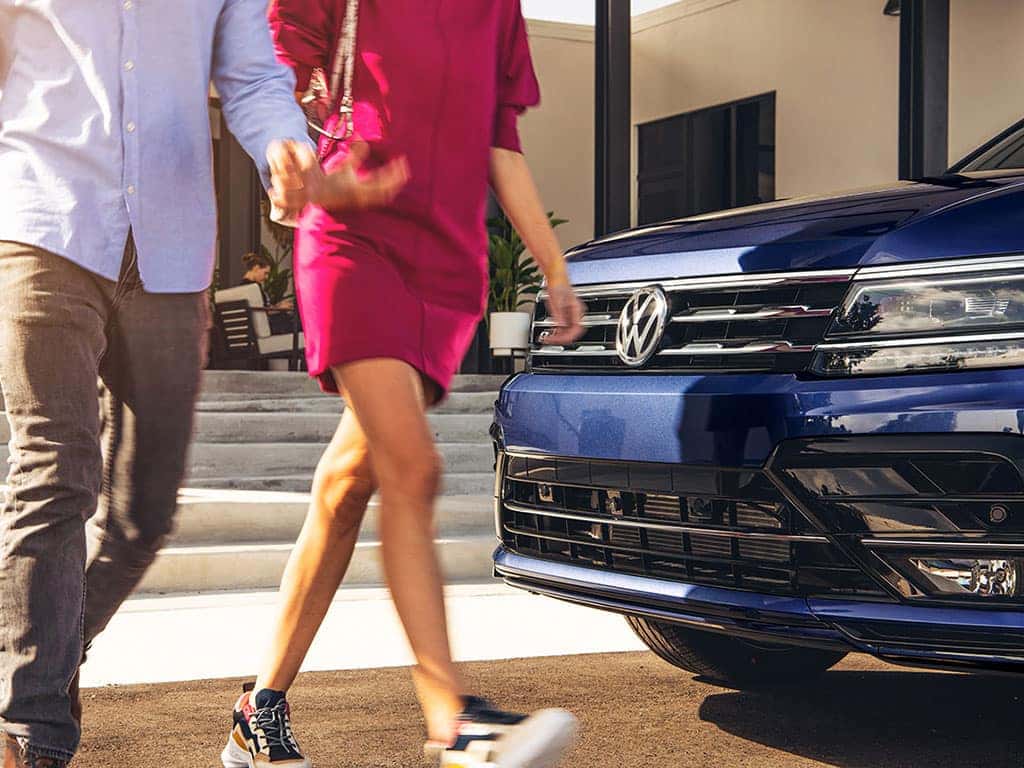 Engine, Performance, and Towing
The 2021 Volkswagen towing puts great emphasis on power, with every trim featuring a 16-valve, 2-liter, 184-horsepower turbocharged V4 engine. The first four tiers come with front-wheel drive but have the option of adding 4Motion all-wheel drive, while the SEL Premium R-Line automatically comes with this feature. 4Motion distributes power among the front and rear wheels, optimizing traction and stability in tough road conditions. With the simple turn of a dial, you can select between four driving modes: Snow, On-Road, Off-Road, and Custom Off-Road, which will control rpm and speed to give you better traction in the varying environmental or road conditions you may encounter.
Technology
The 2021 Tiguan is equipped with many technological features that make your driving experience convenient and enjoyable. For example, wireless connectivity allows you to charge compatible devices without cables. The S version comes with a 6.5-inch infotainment touchscreen, and the next trims get a generous 8-inch display. A high-resolution digital cockpit featured in the SEL and SEL Premium R-Line trims displays customizable information such as speed, approximate travel time, route guidance, various assistance systems, and even elevation. The display is conveniently controlled from the steering wheel.
---
Driver Assistance
The Tiguan comes equipped with cutting-edge technology that reads and senses the car's surroundings, giving you and your passengers peace of mind. The advanced Adaptive Cruise Control (ACC) helps the vehicle maintain a preset speed and keeps a specified distance from the car ahead of you. If activated, the ACC will respond to changes in the vehicle's speed in front of you to maintain a preset distance and will adjust back to the preset velocity when safely possible.
The Lane Keeping System, or Lane Assist, keeps your vehicle in your current lane if you start to drift into another lane without using the turn signal, provided that lane markings on the road can be detected. The Blind Spot Monitor feature helps you safely change lanes, avoiding potential accidents. If your vehicle is equipped with Lane Assist, the Active Blind Spot Monitor feature will prevent you from steering into a car in your blind spot by automatically redirecting your vehicle into your initial lane.
The Tiguan also comes with Rear Traffic Alert, which detects pedestrians and vehicles behind your car while in reverse and can also stop the car if needed to avoid an accident. A Forward Collision Warning system helps to monitor traffic and can audibly and visually alert you to a potential rear-end collision with the vehicle in front of you. If the system senses that a collision is imminent, the Autonomous Emergency Braking system can support you with increased brake pressure; or, if you do not react at all, it can apply the brakes automatically.
Another nifty feature, Light Assist, controls your high beams at speeds above 37 mph by turning them on to provide visibility on dark roads. Additionally, Park Distance Control with Maneuver Braking helps you avoid unnecessary collisions while parking in tight spots.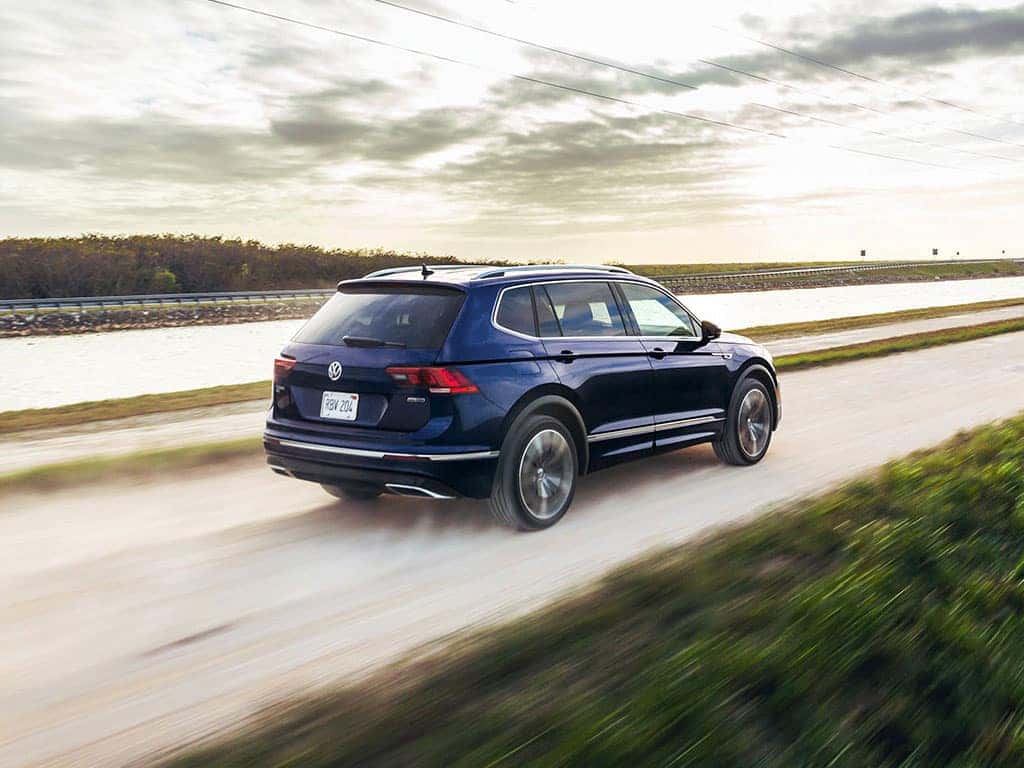 Safety
With your security in mind, Volkswagen has equipped the Tiguan with features to help you prevent the unforeseeable. A wide lens helps you see through the rearview camera for cars, pedestrians, and any other obstacles when you back up your vehicle. A meticulously engineered safety cage helps distribute forces away from the car's occupants in the event of a crash. The car's frame has also been engineered with special zones that help absorb the energy resulting from a collision.