2023 Volkswagen Jetta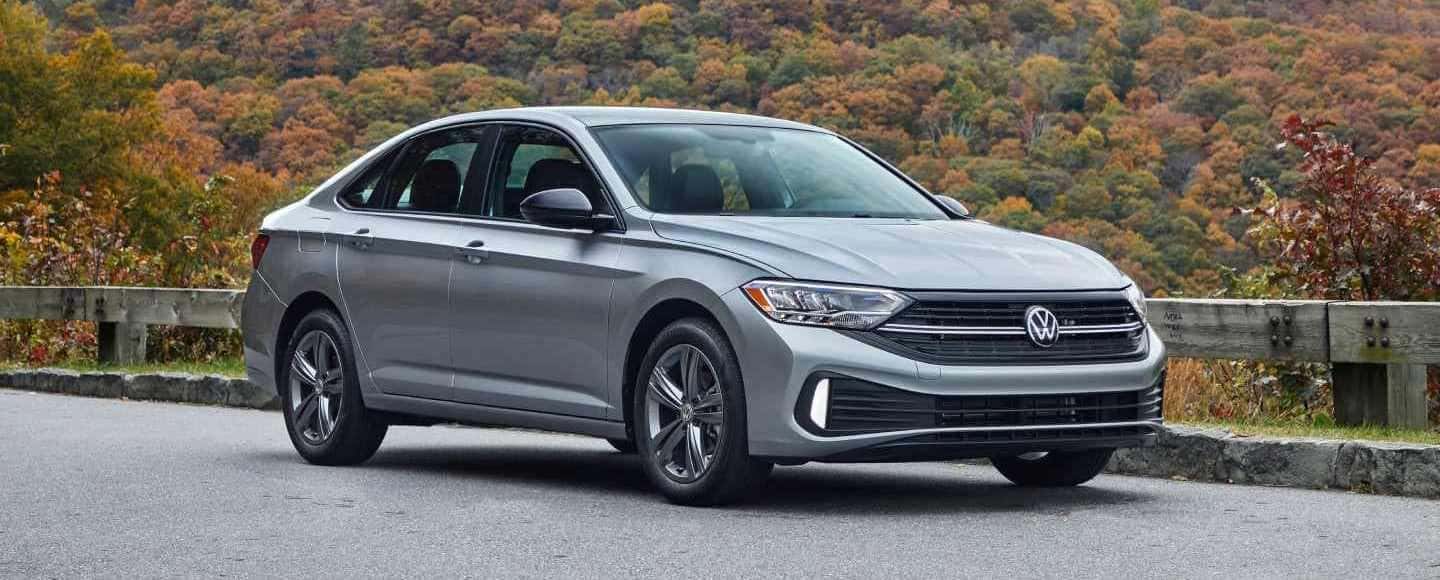 If you're looking for a reliable and affordable sedan that's still a pleasure to drive, you should strongly consider the
new Volkswagen Jetta
. Let us show you all that this new sedan has to offer when you schedule a test drive in Marion.
2023 Volkswagen Jetta – Trims
There are four great trim options available for the 2023 Volkswagen Jetta:
2023 Volkswagen Jetta – S
Even though this is the entry-level 2023 Volkswagen Jetta, there's a lot to love. With the standard model, you'll still get a suite of safety features, such as adaptive cruise control and emergency braking. The interior provides a comfortable ride, with cloth-covered seats and plenty of cargo space in the rear. Other standard features include keyless entry and heater power side mirrors, often reserved for more premium trim levels.
2023 Volkswagen Jetta – Sport
Upgrading to the 2023 Volkswagen Jetta Sport gives your Jetta a sportier design on the exterior, thanks in part to its blacked-out trim on the grille, the mirror caps, and the larger 17-inch alloy wheels. On the inside, you can expect cloth-covered seats that were redesigned to provide more comfort on turns. The 2023 Volkswagen Jetta can also come with a leather-wrapped steering wheel and shift boot, adding an additional touch of elegance.
2023 Volkswagen Jetta – SE
With the 2023 Volkswagen Jetta SE you'll get some great convenience and comfort upgrades, added to make using the Jetta enjoyable at all times. Some standard features include a remote start, heated front seats, dual-zone automatic climate control, and a six-way power driver's seat. You also have the option of getting a sunroof and illuminated vanity mirrors for an improved interior experience.
2023 Volkswagen Jetta – SEL
The best version of the 2023 Volkswagen Jetta is the SEL. This trim comes with all the features of the previous trims plus a lot more. Vienna leather upholstery, a larger instrument panel, a wireless smartphone charger, and ventilated front seats are just a few features you'll get with this trim. For the ultimate driving experience, you'll want to consider the 2023 Volkswagen Jetta SEL.
---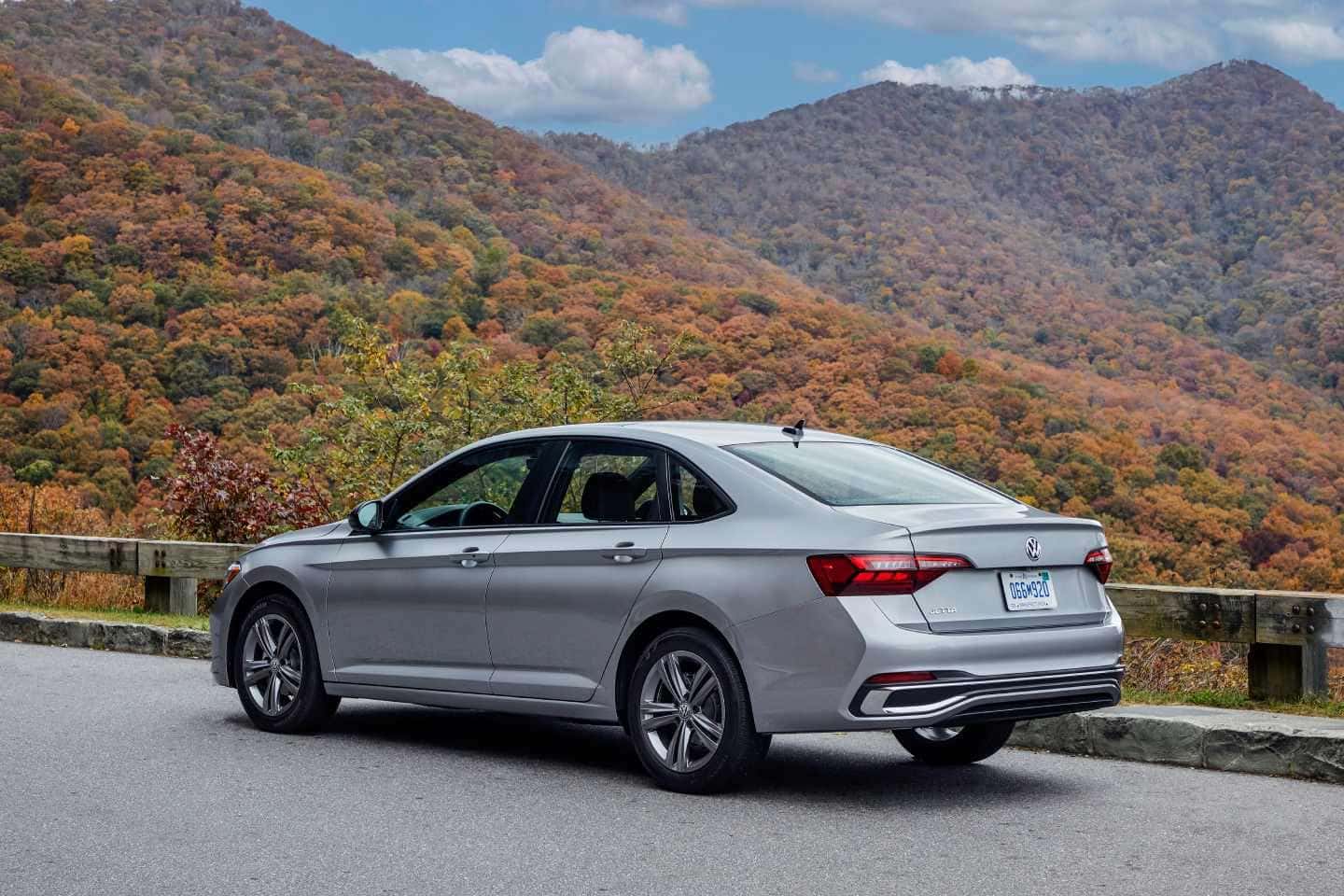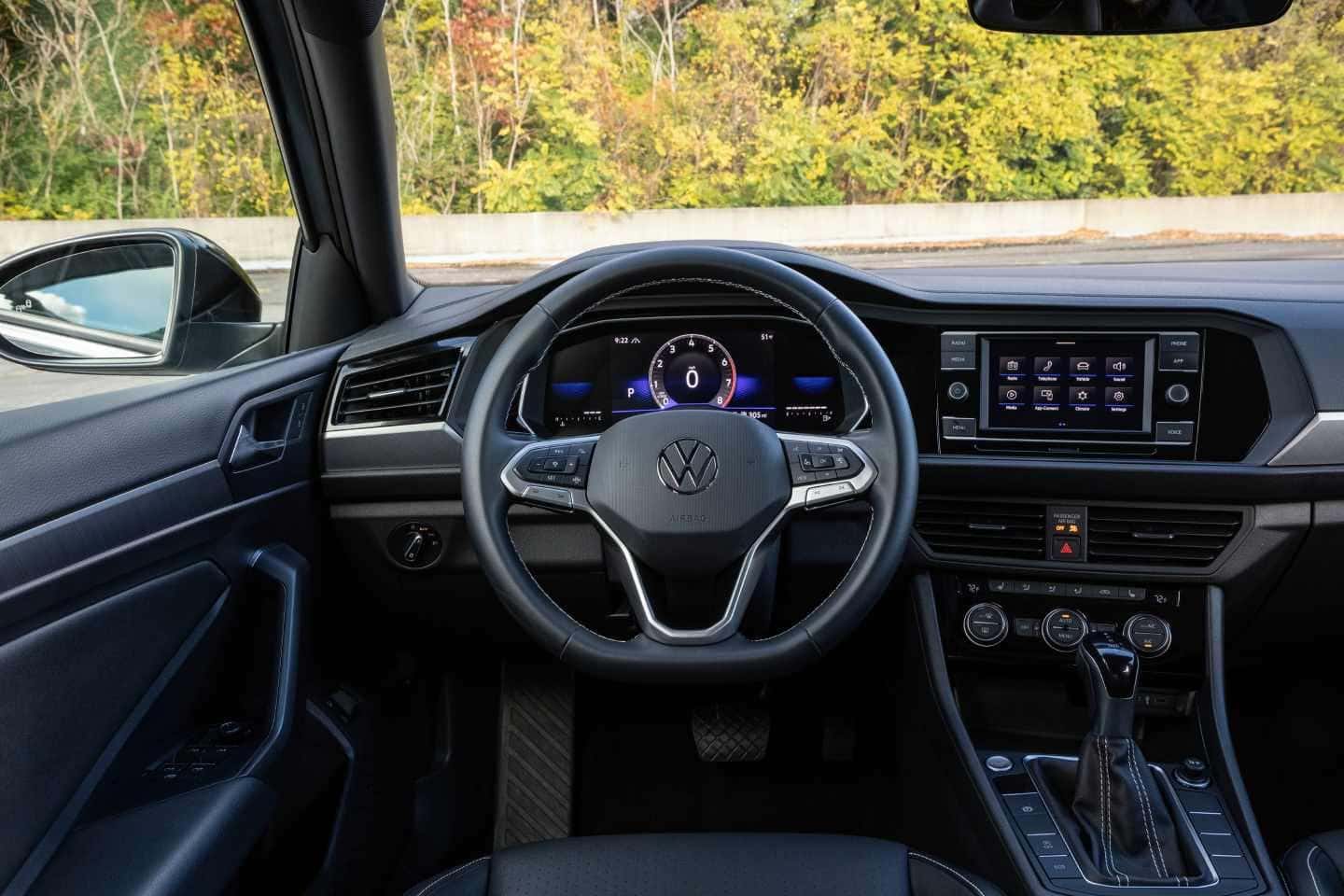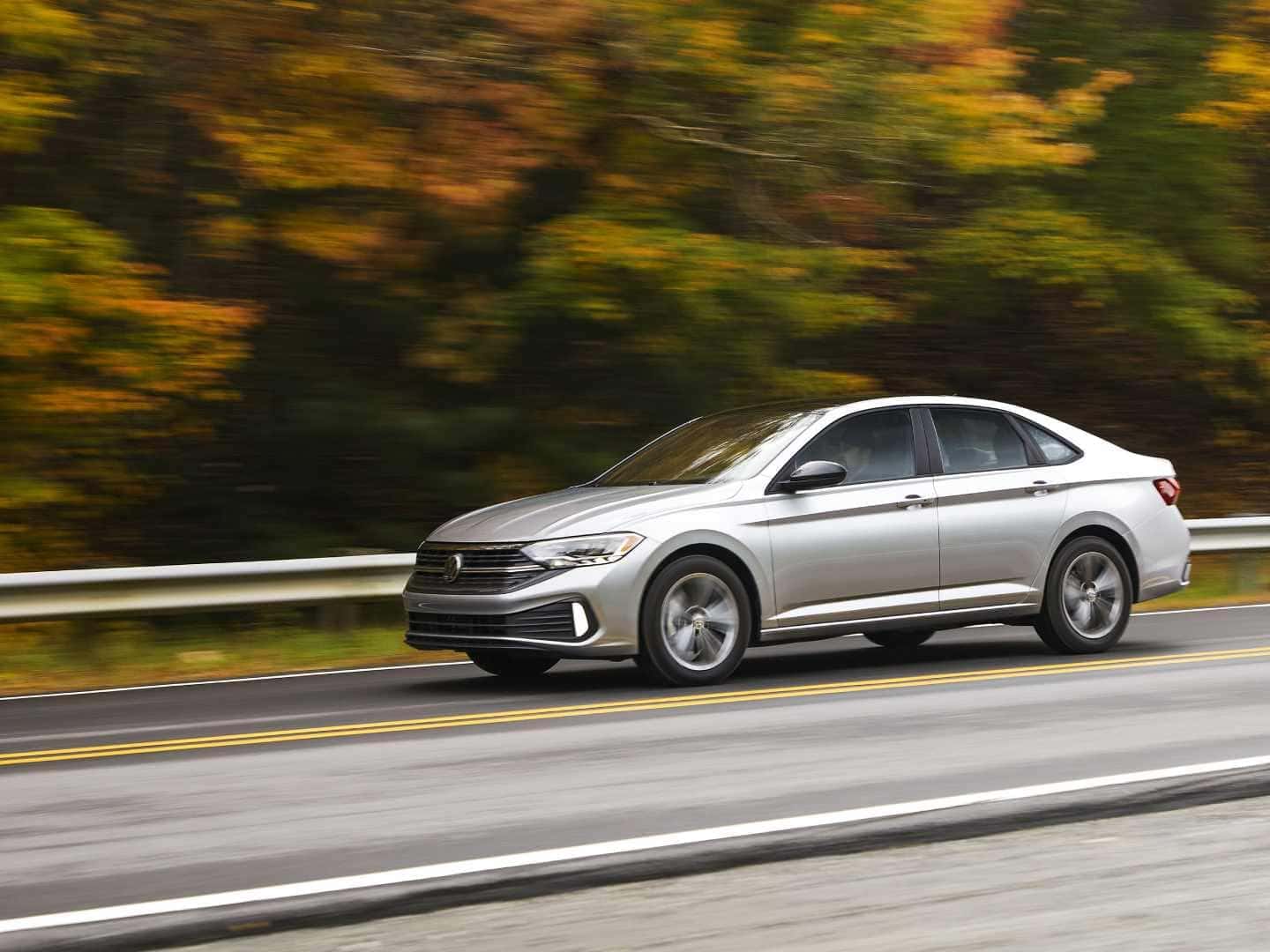 2023 Volkswagen Jetta – Power and Performance
Regardless of which 2023 Volkswagen Jetta you select, you'll get the same turbocharged 1.5-liter engine that produces 158 horsepower and 184 lb-ft of torque. On the base model you can select either a manual or automatic transmission, but the automatic transmission is standard on all other trims. The powerful engine and advanced transmission combine to deliver a smooth and responsive driving experience at all speeds.
The 2023 Jetta is also very fuel-efficient, meaning fewer stops at the gas station. With the manual transmission, you can expect to get around 29 mpg in the city and 42 mpg on the highway, while the automatic transmission changes these estimates to 31/41 mpg, respectively. With gas prices always fluctuating, it's important to get a vehicle that uses its fuel efficiently and in this regard, the 2023 Volkswagen Jetta has you covered.
2023 Volkswagen Jetta – Entertainment and Technology
One of the key contributors to delivering a comfortable ride in the new Volkswagen Jetta is the onboard entertainment technology. Each Jetta model has a touch-screen infotainment system in the center of the dashboard that comes with both Apple CarPlay and Android Auto capabilities. Volkswagen also provides Car-Net technology, which allows you to control settings with gesture controls. Other optional technology upgrades include a mobile hot spot and a wireless charging pad, ensuring your mobile devices are always connected, charged, and ready to go.
---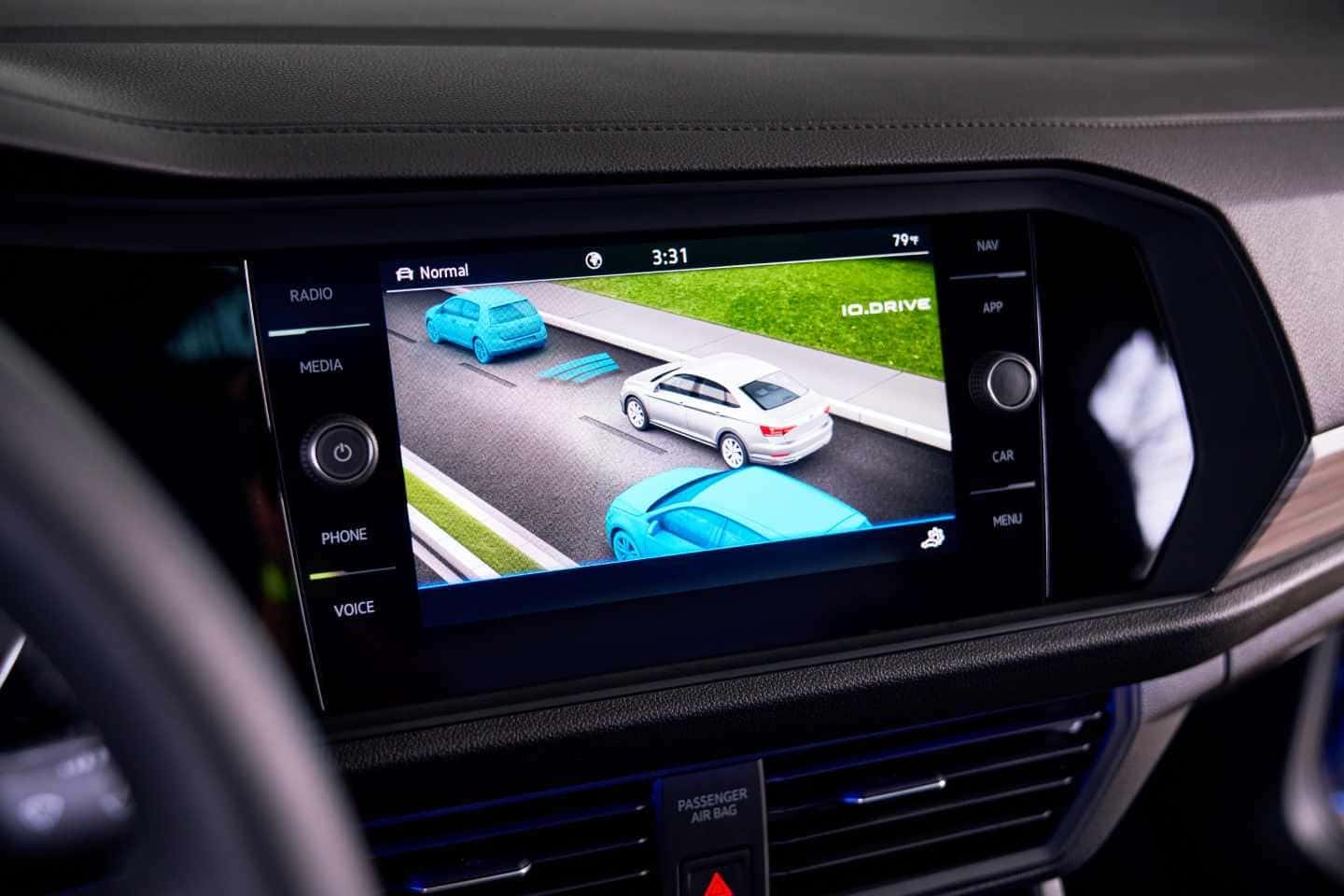 2023 Volkswagen Jetta – Safety Features
Buyers looking for a safe sedan should look no further than the 2023 VW Jetta. There are many safety features included with the 2023 Volkswagen Jetta, with many more available on higher trims. Some standard safety features include a forward collision warning, blind spot monitoring, and a rear cross-traffic alert. Optional features include adaptive cruise control and lane-keeping assist. With the 2023 Volkswagen Jetta, you can feel at peace as you drive, knowing your vehicle has the latest safety innovations.
Learn More About the 2023 Volkswagen Jetta at VW of Marion
Do you think the 2023 Volkswagen Jetta might be the vehicle for you? If you're in the Marion area, let VW of Marion help you decide. We can answer any questions and take you out for a test drive to experience the 2023 Volkswagen Jetta for yourself. Before contacting us, check out our Volkswagen Jetta offers to see our current discounts and specials. Through our Volkswagen offers and Volkswagen incentives, you can save on your next Volkswagen Jetta lease or purchase. You can also save time at the dealership by applying for financing online. Then, when you're ready, contact us to schedule an appointment. We look forward to hearing from you and showing you all that the 2023 Volkswagen Jetta has to offer.
---