Volkswagen College Discount Program in Marion, IL
Volkswagen's College Grad Bonus program helps recent university graduates take on their new life with confidence inside a new Volkswagen model. Thanks to your friends at Volkswagen, you can get a helpful discount on your new Volkswagen as a congratulatory gift for all of your hard work pursuing your degree.
If you're a recent college graduate and you want to take advantage of this fantastic offer, talk to your family at VW of Marion in southern Illinois to get started. Your vehicle should be as exciting as your future — getting behind the wheel of a new Volkswagen is just what you need to make that happen.
New Life, New Car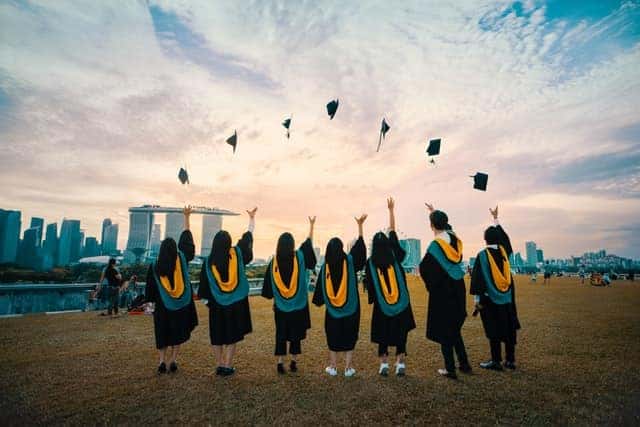 If you've just finished up your college career — congratulations! You're about to start a new segment of your professional life, and that can be an exciting time. It can also be a fairly busy time that can take you from job interview to job interview, moving closer to your after-college job, and then commuting to and from your new job. You can boost your ability to take on this rise-and-grind, schedule-tackling time of your life by getting behind the wheel of a new car that's up for the challenge.
Luckily, Volkswagen has your situation in mind. Through the VW College Grad Bonus program, you can get a great deal on an even greater car to help you tackle your post-college life. Whether you went to John A. Logan College, Washington University in St. Louis, or you got your degree from anywhere else in the country, your team at VW of Marion can help you find a Volkswagen that's suited for you.
So what exactly does the VW College Grad Bonus program have to offer? The short answer is $500. You can get a $500 bonus on select new Volkswagen vehicles. Talk to your friends at VW of Marion to see which models are eligible for the Volkswagen graduate program, how you can take advantage of this great deal, and schedule test drives of your favorite models.
Do I Qualify for the Volkswagen College Grad Bonus Program?
The requirements for you to be eligible for the program are fairly forgiving. You must be a U.S. citizen or permanent resident. You must have graduated from an accredited college or university in the United States or Canada sometime in the 24 months prior to your credit application. You must have a full-time job or have your future employer write you a written commitment. You'll also need references, a copy of your degree or transcript, contact information for your college or university, and proof of income. Your credit must be in good standing, but credit history isn't required for you.
This program was renewed for the new year and will run from Jan. 4, 2022, to Jan. 3, 2023. So if you have graduated in the last two years and you need a new vehicle, now is your chance to take advantage of this great deal. If you have any questions about your eligibility or the process of acquiring the VW College Grad Bonus, please reach out to your team at VW of Marion to get the information you need to move forward.
Which Models Can I Choose?
If you're wondering which models Volkswagen offers student discounts on, simply reach out to VW of Marion to see what we have in stock for you today. At VW of Marion, the list of models you'll be able to use your VW student discount on includes the:
2022 Volkswagen Tiguan compact SUV
2022 Volkswagen Atlas midsize SUV
2022 Volkswagen Passat midsize sedan
2022 Volkswagen Golf GTI hot hatchback
2022 Volkswagen Atlas Cross Sport crossover SUV
2022 Volkswagen Taos compact SUV
This list is subject to change, so be sure to reach out to one of our team members soon to check on whether your favorite Volkswagen model is eligible for the VW College Grad Bonus program.
As you can see from this list, Volkswagen has a model for most driving styles, whether you're looking for a roomy SUV, an exciting hatchback, or an efficiency-minded sedan. And with the VW College Grad Bonus program, you can enjoy the model that most fits your style and the demands your life calls for.
An additional perk to the VW College Grad Bonus program is that you can use it to either purchase or lease your Volkswagen. If you're looking to lower your monthly payments, leasing your Volkswagen may be a good option for you. If you want to own your vehicle outright, that's an option as well. Volkswagen and our team at VW of Marion want to give you everything you need to get the best car-shopping experience. The versatility of the VW College Grad Bonus program is a testament to that focus on customer experience.
How Do I Get Started?
When you're ready to explore the Volkswagen lineup and take advantage of the Volkswagen College Grad Bonus program, come visit our team at VW of Marion, Illinois, to find the car that's perfect for your style. We'll get you set up with test drives of the vehicles that are eligible for the program to let you find your Volkswagen.
VW of Marion focuses on providing our customers with the ideal car shopping experience. The low-stress, friendly atmosphere we pride ourselves on allows you to take your time finding the best Volkswagen model for you. Whether you have a hundred questions about the car or you just want to get behind the wheel as soon as possible, our team is ready to help.
Once you think you've found the best Volkswagen for your needs, our finance department can help you get the best deal on your choice. Be sure to mention you're a recent college graduate and bring the necessary documents to make the process as smooth and enjoyable as possible.
Whether you're looking for an SUV that can fit you and all of your adventuring gear or you need an efficiency-focused sedan to make the most out of every gallon, there's a Volkswagen model made for you. And thanks to this Volkswagen student discount, getting that model just got a little bit easier.